Sun 17 Jun 2007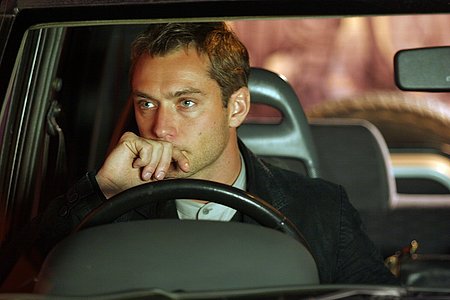 Coming to the realization he never learned to drive, Jude can only pout.

Theatrical Release Date: 01/26/2007
Director: Anthony Minghella
Cast: Jude Law, Juliette Binoche, Robin Wright Penn, Martin Freeman, Ray Winstone
If there's one thing to be learned from writer/director Anthony Minghella's "Breaking and Entering", it's not to situate your posh architecture firm and all of its high tech equipment in a bad neighborhood.
As the title suggests, the action that propels all of the storylines is a bit of burglary. The result, as so often happens in film, is that the event ripples outward, affecting people in unexpected ways.
Jude Law and Robin Wright Penn are a seemingly perfect couple. However, she has an autistic daughter from a previous relationship and suffers from depression. Mix that with his workaholic nature and you've got the ingredients for some tension.
Meanwhile, Juliette Binoche is an immigrant from whatever country they're calling the aftermath of the Bosnian-Serb-Croatian whatnot. Her husband was killed in the midst of the fighting and she is struggling to raise her son alone. Though thanks to a poor influence via his Uncle, the son is part of the crew that robs the Law's architecture firm.
Law eventually discovers where the boy lives and decides to discover the reason behind the robbery rather than report his findings. Along the way, he becomes emotionally and sexually entangled with Binoche as his own marriage is crumbling.
What works about "Breaking and Entering" are the excellent performances and carefully planned out disintegration of relationships within the film. All of the characters are under some state of flux, and it is how they deal with the few weeks depicted onscreen that will determine their future course.
Law and Binoche especially light up the screen. When he's not playing the simple womanizing cad he so often plays, Law has remarkable acting talent and it's nice to see him use some of it here. Binoche is usually quite strong and her character's muddled mess of emotions are right in her wheelhouse.
If you like dramatic films centered on tenuous relationships, then "Breaking and Entering" will be just what you're looking for. I'm giving it a strong 3 out of 5 and if more attention had been paid to Freeman's life, the rating would probably have gone up a point.