Fri 5 Feb 2010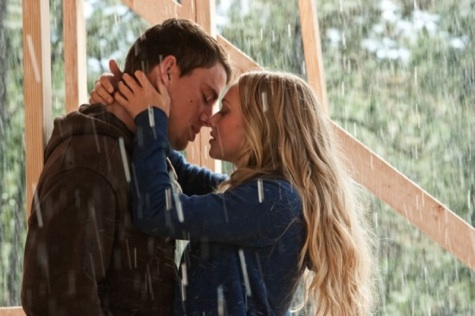 Somewhere, John Cusack is inquiring about royalties for people kissing in the rain.
Theatrical Release Date: 02/05/2010
Director: Lasse Hallström
Cast: Channing Tatum, Amanda Seyfried, Richard Jenkins, Henry Thomas, Scott Porter
Sometimes at screenings, it's not clear exactly what demographic a film appeals to. People get passes from radio stations, local print outlets and whatnot, excited to see any film for free, regardless often of what it's about or who's in it. However, then there are times like "Dear John", as I sit in the audience and see that it's at least 90% female, many of them under 30, making it all too obvious who's going to make up the lion's share of the opening weekend box office (and reminding me that I should have taken Home Economics in college).
I had seen the trailer and was expecting some goopy nonsense about star crossed love, one that would stand time and distance – making the Kleenex corporation rich along the way. I wasn't wrong about that but I was wrong in thinking I couldn't relate. Now before anyone revokes my standing in the Y chromosome club, keep in mind who directed this film, Lasse Hallström. He's a very talented director, responsible for "What's Eating Gilbert Grape", "The Cider House Rules", "The Shipping News", etc. etc. I don't think he's ever made a 'bad' film – sure one might not always raise them on a cinematic pedestal but the man knows his business (Heck, J Lo was in "An Unfinished Life" and that was pretty good too).
Seeing Hallström's name in the opening credits gave me hope and so began the hour and forty five minutes of "Dear John". Based on the novel by Nicholas Sparks, the story involves an Army special forces soldier (Channing Tatum) and a beguiling college student (Amanda Seyfried) who enjoy a whirlwind two week romance before he ships out on duty for a year. They write love letters to one another, make promises no one would make if love didn't make you stupid and then complications arise due to a combinations of the events of 9/11 and the normal strain of a long distance relationship.
Tatum and Seyfried do have decent chemistry with one another and both pull off the forlorn, "I wish the love of my life were here now" looks that are required for the film. While Tatum was hit and miss with scenes that required tears, he's had plenty of practice playing military men and his presence didn't bother me quite as much as expected. Seyfried, on the other hand, was quite capable of navigating the ups and downs of the character and an excellent choice for the role. Kudos must also go to Richard Jenkins, who plays Tatum's autistic father and helps to create a sympathetic space for Tatum to find over the course of the film.
Still, perhaps the main driving force behind everything is the soundtrack. Instead of relying on a beautifully composed score, Hallström and team went with a loaded set list of weepy, alt rock – from Joshua Radin & Schuyler Fisk to The Swell Season to an original piece done by Seyfried herself (as part of the film, or 'diegetic' if you're a film snob). These songs are the emotional engine, telling the audience what to feel. One can go either way on this element, and often I find myself annoyed at being pushed towards something that isn't on screen otherwise but in the hands of Hallström and in this specific instance, it actually worked for me.
Fans of Sparks' books and/or subsequent films like "Message in a Bottle" or "The Notebook" will get what they want here but if you don't see the appeal in the story from the trailer, I wouldn't worry about trekking to the theater. My overall enjoyment of the film came from how it made me reflect on personal issues, largely helped by the sappy soundtrack (of which I admit to already owning most songs). So, because of Hallström, Seyfried, Jenkins and the music, I'll give "Dear John" a 3.5 out of 5. This probably won't end up on my DVD shelf but I'd be lying if I said I'd change the channel on a rainy day.